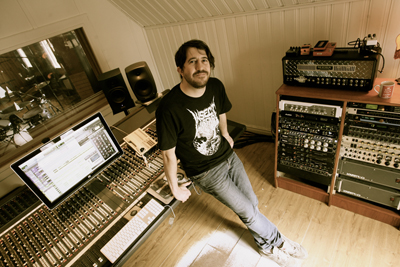 William Blackmon
I'm a sound engineer based in Nailsworth, Gloucestershire, England.
I run a mobile professional recording and mixing setup, with pristine high-end channels (Neve, Universal Audio, API, Neumann, Royer Etc) going into Pro Tools. Please refer to the top menu for more details on my services or my gear.
Ten years of work experience, ranging from live mixing, engineering, producing, mixing and mastering. Experience with all styles of music, but you might find that my work is somewhat focused in the extreme area.
Bands I've worked with include Isobel & November, Victims, Beardfish, Meleeh, The Arson Project, Children of Fall, Isole, Lack, Last View, Facada, Passiv Dödshjälp etc.
I also play guitar, drums and do vocals in a grindcore band called Gadget and play drums in Stuka Party. Gadget being based on American label Relapse, and Stuka Party on french Trendkill Recordings.
www.myspace.com/gadgetgrindcore
www.stukaparty.com
Education
2000-2001 Bollnäs Folkhögskola, Sweden - 1st Instrument Sound Engineering 2nd Instrument Guitar
Other Work Experience
2001 Intern in dB Studios, Stroud
2001-2004 Internship + Recording and Mixing at Musikhuset, Gävle, Sweden
Live mixing
2001-2005 House Mixer at Kungen, Sandviken, Sweden
2004-2011 House Mixer, Musikhuset, Gävle Sweden
Studio
2004-2011 Fulltime, Studio managing, Engineering, Mixing, Mastering at Musikhuset, Gävle, Sweden
Samples of my work